This recipe, inspired by a recipe from King Arthur Baking, was give to me by one of my dear friends, Judy Joseph, a great baker. It is from her recipe book, "Judy Joseph's Kitchen." You're going to love it!
1 c vegetable oil

2 ⅔ c sugar

4 large eggs

2 c (or one can) pumpkin

⅔ c water

3 ⅓ c unbleached all-purpose flour

½ t baking powder

2 t baking soda

1 ½ t salt

1 t nutmeg

1 t vanilla

1 c chopped walnuts or pecans

1 ½ c chocolate chips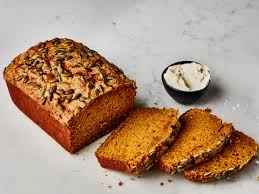 In a large bowl, cream together the oil and sugar. Beat in the eggs, pumpkin, and water.

Add the flour, baking powder, baking soda, salt, nutmeg, and vanilla, stirring to blend, then mix in the chips and nuts.

Spoon the batter into two lightly greased 9×5 quick bread pans, lined with parchment paper. Bake the bread in a preheated 350°F oven for 1 hour, or until a cake tester inserted in the center of the loaf comes out clean.

Remove the bread from the oven, and cool it on a wire rack. When it's completely cool, wrap it well in plastic wrap, and store it overnight before serving.
Submitted by Judith Subar