Winner of an Honorable Mention for Appetizers in a Grand Rapids Press cooking contest.
3 c diced carrots
1 c diced sweet potatoes
1 t salt
1 c boiling water
1 large pear, 1 ½ c shredded sharp cheddar cheese
½ c grated Parmesan cheese
1 ½ c all-purpose flour
¾ t dry mustard
¼ t cayenne pepper
2 T minced sun-dried tomatoes
1 T minced fresh basil
½ c (1 stick) butter, melted
peeled and sliced
1 c honey
Dash of lemon juice (optional)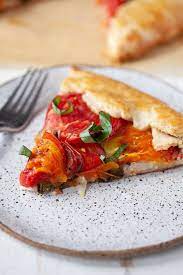 Heat oven to 375°. Toss together cheese, flour, mustard, and pepper. Mix in butter. Work mixture with hands to form dough. Add tomato and basil. Add 1 tablespoon of water if dough feels dry.
On a floured surface, roll out half the dough to a thickness of ⅛-¼ inch. Cut out with cookie cutters. Place on an ungreased baking sheet. Repeat with remaining dough.
Bake at 375° for 10-12 minutes until lightly browned on the bottom. Remove and cool.
Variations: Instead of tomato and basil, add 2 T pesto to dough.
Submitted by Rob Franciosi