Winner of an Honorable Mention for Appetizers in a Grand Rapids Press cooking contest.
1 c flour
½ t salt
4 eggs
1 ¼ c milk or water
Oil
Cheese Filling:
1 12-oz dry cottage cheese
1 egg
1 T oil
1 T sugar
Dash of salt
¼ t vanilla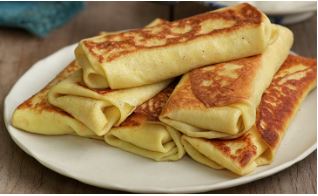 Beat eggs; add liquid. Beat again. Gradually add flour and salt which have been pre-sifted together. Stir constantly to make a thin smooth batter. Lightly grease skillet. Use a paper towel to spread the oil. Keep it, as you will want to use it again about every third blintz. Place skillet over a moderately high flame (not full). Using a soup ladle, pour ladle full into skillet. As soon as batter begins to stick (almost immediately), pour all excess back into unused batter. Fry until blintz begins to bubble and edges begin to curl away from skillet. The top of the blintz may be still moist. Turn blintz out, fried side up, onto wax paper. You may have to tap the skillet.
When all the blintzes are fried, fill. Fruit of meat fillings may be used. Place 1 heaping tablespoon of filling in the center of each blintz (on the browned side). Raise bottom of dough to cover filling. Fold sides in, then roll bottom with covered filling upwards until all of blintz has been wrapped around the filling. When all blintzes are filled and wrapped, fry in a liberal amount of oil until browned. Serve hot with applesauce, sour cream, or sugar.
Cheese filling: combine all ingredients.
Submitted by Roz Baron, from "A Touch Of Love, A Pinch Of Tradition" B'nai B'rith Women #473, Grand Rapids, MI 1987