Vegan Chocolate Cheesecake
Due to popular demand, here is the recipe for the winning entry at Temple Emanuel's Shavuot cheesecake contest. This recipe was created by vegan food blogger Richard Makin, and will delight vegans and non-vegans alike.
Crust
154g (5 ½ oz) Oreos
30g (2 ½ T) melted vegan butter/margarine
Filling
340g (12oz) dark chocolate (vegan/nondairy)

60ml (2oz) refined coconut oil (not virgin)

350g (12.3oz) extra-firm silken tofu (or one aseptic package, e.g. Mori-Nu brand)

4T powdered sugar

2t lemon juice

200ml (7oz) almond milk, or other non-dairy plant milk

2T cocoa powder

Sea salt – a pinch for finishing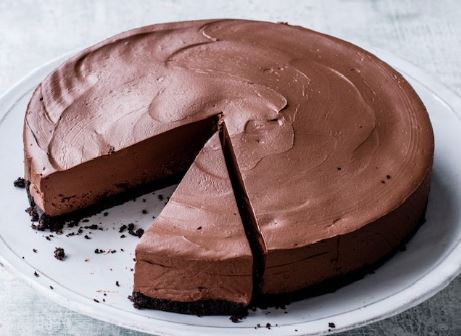 Line the base and sides of an 8" or 9" springform pan with parchment paper. Crush the Oreos either by hand in a plastic bag or in a food processor. Pour into a bowl and mix with the melted butter. Press firmly into the bottom of the lined pan and refrigerate for at least 30 minutes.
For the filling, melt the chocolate and coconut oil in a heat proof bowl over a bowl of gently simmering water, stirring constantly.
While the chocolate melts, put the silken tofu, sugar, lemon juice, plant milk and cocoa powder into a high-speed blender and blend until completely smooth. Add the melted chocolate mixture and blend again until smooth. 
Pour the filling mixture on top of the chilled Oreo base and chill for at least 3 hours. Once set, sprinkle with a few sea salt flakes before slicing and serving.