1 ½ – 2 lb beef with bone
Salt to taste
1 ½ c chopped onion
2 c thinly-sliced cabbage (½ lb)
½ lb pared carrots, cut in 1" pieces
¾ c chopped celery
¼ c chopped green pepper
1 (1 lb 12 oz) can tomatoes, undrained
1 pkg frozen cut green beans
1 12-oz can whole kernel corn, drained
1 c potatoes, pared and cubed
2 T chopped parsley
1 6-oz can tomato paste
¼ t cloves
1 t sugar
½ t pepper
½ c barley
1 T salt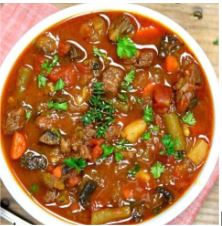 Place beef and 1 T walt in 4 quarts of water in a very large pot. Cover and bring to boil. Skim surface. Add cabbage, onion, carrots, celery, green pepper, and tomatoes. Bring to a boil; cover and simmer for 30 minutes. Add salt and remaining ingredients except barley. Simmer covered for 2 hours. Add barley and simmer 1 hour longer. Remove meat and let meat cool. Remove meat from bone; cut in cubes and return to soup. Refrigerate overnight. Skim off fat from surface. Makes 6 ½ quarts.
Submitted by Judy Joseph, from "A Touch Of Love, A Pinch Of Tradition" B'nai B'rith Women #473, Grand Rapids, MI 1987