3 c diced carrots
1 c diced sweet potatoes
1 t salt
1 c boiling water
1 large pear, peeled and sliced
1 c honey
Dash of lemon juice (optional)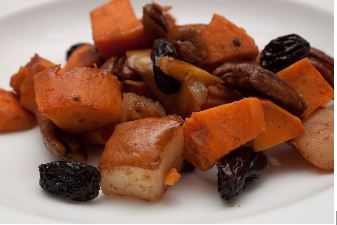 Add carrots, potatoes, and salt to boiling water. Simmer 20 minutes. Add pears and cook 10 minutes longer. Transfer to a baking dish. Pour honey over and blend well. A dash of lemon juice may be added. Bake in a slow oven (approximately 300°) for approximately 30 minutes. Serves 6.
Submitted by Ida Weiner, from "A Touch Of Love, A Pinch Of Tradition" B'nai B'rith Women #473, Grand Rapids, MI 1987