Teddy Bread (Kutz Camp Challah)
I was fortunate to attend Kutz Camp in Warwick, NY for two summers in the 70s. Kutz, the Reform movement's camp for teen leadership and development, unfortunately closed in 2019. The highlight of every week was Shabbat dinner, prepared by the late Teddy Phelps (z"l) with his incomparable fried chicken and incredible Challah (we called it "Teddy Bread"), from a recipe he never shared, even with the campers who worked with him in the kitchen. Sadly, Teddy passed away in 2010, taking the recipe with him, or so we all thought. After the camp closed, the director saw a scrap of paper that seemed to have part of a recipe on it. The original recipe used yellow food dye, which I replaced with turmeric.
1 c lukewarm water

¼ c brown sugar

¼ c honey

4 t yeast

¼ c canola or neutral oil

4 eggs + one egg for egg wash

¼ t turmeric

1 t kosher salt

4 ½ – 6 c bread flour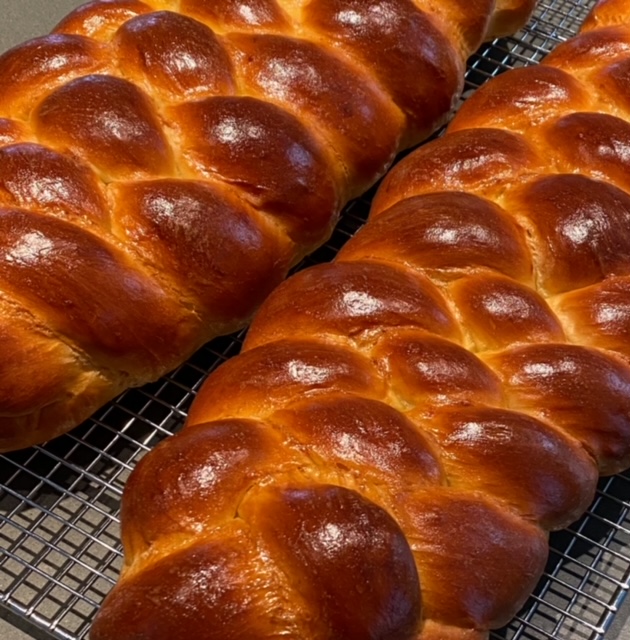 Combine water, brown sugar, honey, and yeast into a Kitchen-Aid mixer bowl.  Mix with a whisk attachment for about 15 seconds until combined. Let sit about 10 minutes and let the yeast bloom. Begin to whisk at low speed and add the oil, 4 eggs, turmeric, and salt. Mix well, then add the first two cups of flour, mixing until smooth, until it becomes the consistency of pancake batter. Switch to the bread hook and add flour ½ c at a time until it forms a ball around the bread hook and sides of the bowl are mostly clean.  Grease another large bowl with oil and add the dough ball, making sure to oil all sides.  Cover and proof for 1 hour and punch down.  Proof for another hour, punch down and turn out onto a lightly floured counter.  Knead until dough is no longer sticky.  Braid and place on a baking sheet lined with parchment paper, cover with a towel, and let rise for another 40 minutes while preheating the oven to 300 degrees.  Brush with egg wash, add any toppings, and bake 25 minutes.  Remove and brush the center of the braids with another thin coat of egg wash, turn sheet and bake another 20 minutes.  Cool on wire rack.