Michal's Special Passover Meatballs
2.2 lb ground beef
2 medium onions
3 cloves garlic
½ bunch of cilantro (optional)
1 egg
4 T matzo meal (or bread crumbs)
¼ c boiling water with ¼ t baking soda
BBQ spice
Salt
Black pepper
Two cans diced tomatoes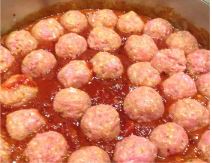 Thoroughly hand mix all the ingredients and spices.
With wet hands make patties and lay on baking tray with parchment paper.
Bake at 400°F for 10 minutes.
Sauce
Dice onion, cut the garlic to small pieces, and saute in oil on low heat to soften without browning.
Add two cans of diced tomatoes, salt, and ½ c of water.
When the tomatoes are softened and boiling, cook for 30 minutes.
Submitted by Michal Ravid