Mrs. Scott's Unbaked Chocolate Cookies
One package butterscotch chips
Two packages chocolate chips
Small can chow mein noodles
One cup Spanish (whole unskinned) peanuts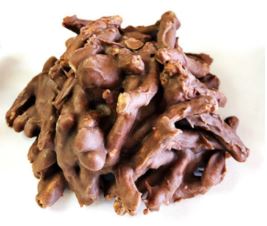 Melt in double boiler one package butterscotch chips and two packages chocolate chips. Add small can chow mein noodles and one cup 'Spanish' whole/unskinned peanuts and fold ingredients together.

Drop by spoonfuls on a greased pan. Refrigerate until it hardens (about half hour).

June adds: "Note -1/2 the melted chips may be saved and spread on top of the 'cookies' before refrigerating to give them a 'solid chocolate look.'

I'd like to add that I have eaten these 'cookies' frequently at June's, but they became more like cookie drops as she stopped bothering to flatten them and let the dollops harden. Yum!
Submitted by Phyllis Horowitz; recipe by June Horowitz