It wouldn't be Rosh Hashanah without this classic Ashkenazi treat. This version is flavored with cocoa, which is common in Israeli homes.
1 ½ c (180g) all-purpose flour

2 T unsweetened cocoa powder

1 ½ t baking powder

½ t baking soda

½ t ground cinnamon

½ t ground ginger

2 large eggs

½ c sugar

½ c honey

½ c vegetable oil

1 T grated orange rind

¼ c water

½ c walnuts, lightly toasted (optional) and coarsely chopped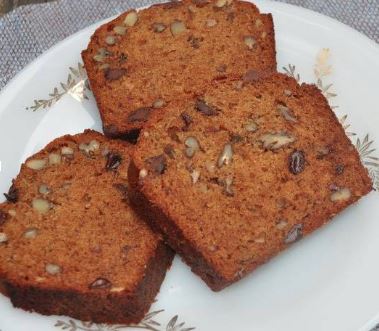 Preheat oven to 325°F. Lightly grease an 8×4-inch loaf pan, line it with parchment paper or foil and grease the liner. Sift flour with cocoa, baking powder, baking soda, cinnamon, and ginger into a bowl.
Beat eggs lightly in a large bowl with an electric mixer. Add sugar and honey and beat until mixture is very smooth and lightened in color. Gradually add oil and beat until blended. Beat in orange rind. Stir in flour mixture alternatively with water, each in two batches. Last, stir in walnuts. 
Pour batter into prepared pan. Bake about one hour or until a cake tested inserted in cake comes out clean. Cool in pan for about 15 minutes. Turn out onto rack and carefully peel off liner. Wrap in foil when completely cool. Keeps for two weeks at room temperature if tightly wrapped. Serve in thin slices.