Flourless Chocolate Torte
Dairy or Parve, Great for Passover!
Nonstick cooking spray

5 large eggs

8 oz unsweetened chocolate

4 oz best-quality semi-sweet chocolate

½ c water

1 ⅓ c sugar, divided

1 c (2 sticks) butter or margarine

Whipped cream or parve whipped cream, for garnish

Raspberries, for garnish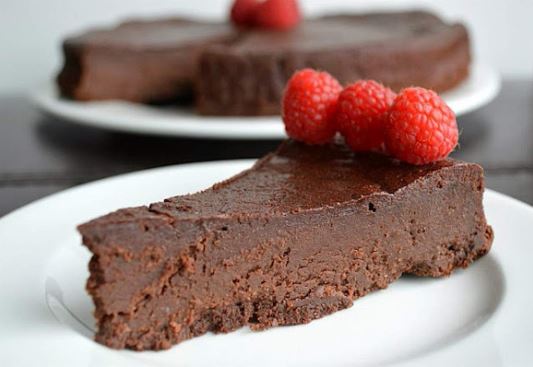 Preheat oven to 350°F. Lightly coat a 9" springform pan with nonstick spray. Crack the eggs into a small glass or metal bowl. Place them on the stovetop, but not over a direct flame. You want to warm the eggs, but not cook them. This will allow the eggs to triple in volume when beaten. Set aside. In a medium pot, melt the chocolates, water, 1 c sugar, and butter or margarine over medium heat, stirring with a spoon. Remove from heat and let cool. Transfer the eggs to a mixing bowl. Add the remaining ⅓ c sugar to the eggs and beat until tripled in volume. With a spatula, fold the chocolate mixture into the eggs. Pour into the prepared pan. Bake 30-35 minutes; it will be a little loose in the center. Serve warm or at room temperature with whipped cream and raspberries.
Submitted by Judy Sernick