Dough:
1 lb butter or margarine
4 c flour
¾ c water
¼ c vinegar
1 egg
1 t salt
Filling:
15 cooked potatoes (hot), mashed
3 large onions, minced
Chicken fat or oil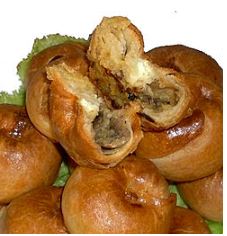 Dough: melt butter. Add flour and salt. Make a well. Add balance of ingredients. Roll dough very thin on a floured surface.
Filling: Saute onions in chicken fat or oil. Add to mashed potatoes. Spread on dough and roll as for a jelly roll. Cut excess dough before roll is too fat (after 3 or 4 turns). Place on greased cookie sheet; brush with oil. Bake at 350° for 45 minutes, or until nicely browned. Cut into serving pieces and serve hot.
Submitted by Sue Douglas, from "A Touch Of Love, A Pinch Of Tradition" B'nai B'rith Women #473, Grand Rapids, MI 1987