For the Kasha
2 c (480 ml) boiling water, stock, or chicken soup
2 T (30 g) unsalted butter or margarine (optional)
1 t kosher salt
1 c (205 g) uncooked buckwheat groats
1 lg egg or 2 egg whites, lightly beaten
½ t freshly ground black pepper
For the Onions
One stick (110 g) butter or margarine
2 large onions, chopped
2 t kosher salt
Freshly ground black pepper
8 oz (227 g) bow-tie pasta (farfalle)
Salt and pepper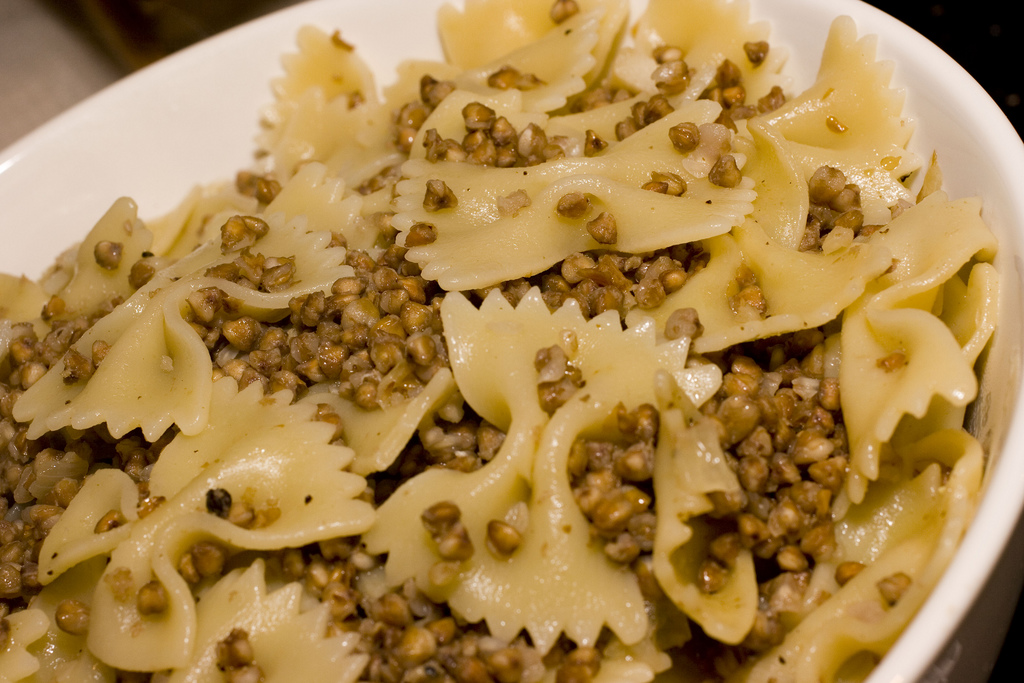 Combine the water, butter or margarine (if using), and salt in a small saucepan and bring to a boil.
Meanwhile, place the buckwheat in a wide saucepan or skillet, add the egg or egg whites, and stir to combine. The buckwheat will clump, but don't worry about it. Set the pan over medium-high heat and stir continuously until the clumps break apart into individual grains and start to give off a nutty aroma, about 5-7 minutes.
Melt the butter or margarine in a large skillet over medium heat. Add the onions and cook, stirring occasionally, until translucent, 7-8 minutes.
Meanwhile, bring a large pot of salted water to a boil. Cook the pasta until al dente according to the package directions. Drain and combine with the kasha and onions. Toss until everything is combined, then taste and adjust the seasoning, if necessary.
Hints: Substitute olive oil or schmaltz for the butter/margarine. You can reheat the kasha varnishkes in a baking dish with ½-1 cup of broth; cover with foil and bake for 15-20 minutes at 375 degrees.