You don't have to be a vegan to enjoy vegan food. There are many foods considered to be "accidentally vegan" that aren't made specifically for vegans or the vegan market, but are not made with any animal products. Case in point – vegan pita.
8 oz/236ml lukewarm water

1 T sugar

2 ¼ t yeast

3 c/360g AP flour

1 T extra virgin olive oil

1 ¾ t kosher salt (about 10g)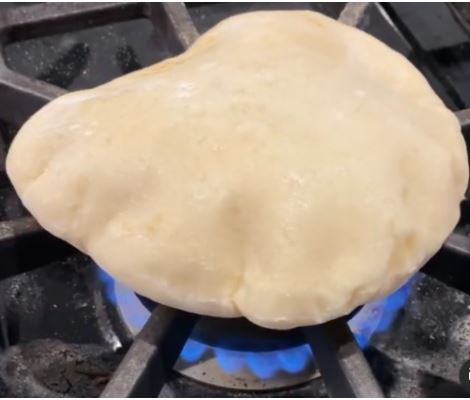 Add the water, sugar, and yeast to the bowl of a stand mixer, and add one cup/120g of the flour and whisk. Let sit for about 10 min until bubbly. Add the olive oil and salt the remainder of flour, and mix/knead with a dough hook for 10 minutes. Remove and place in an oiled bowl, cover with cling film and let rise in a warm place for one hour. Punch down and let rise another hour. Remove dough from bowl onto a lightly floured surface. Cut and form 8 balls of dough and cover with a towel and let rest for 30 minutes. Roll each ball into a flat round shape, keeping covered with a clean towel. Rest for 10-30 minutes. Preheat a cast iron skillet over medium heat. Cook each pita 1-2 minutes on each side. If you have a gas stove, place the pita directly on the flame briefly to char and puff up. Remove pita and store under a clean towel while cooking the remainder.