Whipped Cream Chocolate Roll
5 large eggs

6 T flour

6 T cocoa

1 t baking powder

1 t vanilla extract

1 c sugar

2 half pints of whipping cream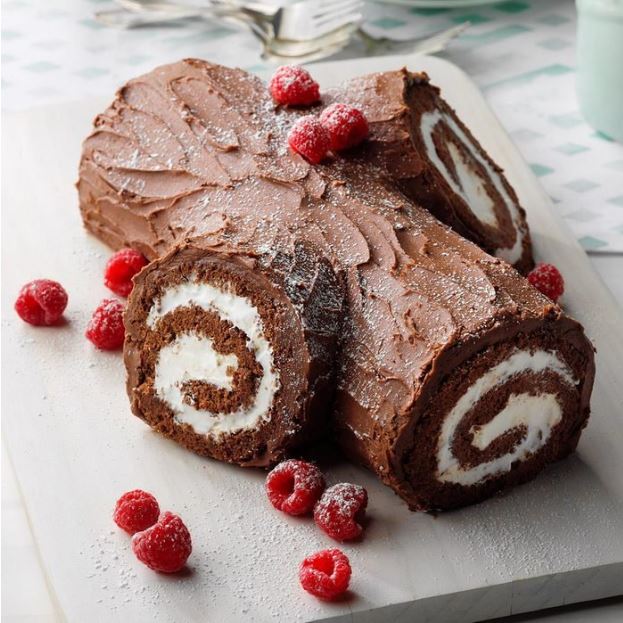 Separate eggs. Beat whites until stiff and gradually add sugar (1-2 T at a time). Add yolks and beat again. 
Sift flour, cocoa, baking powder and fold into the egg mixture.
Grease a 10x15x1 cookie sheet. Cut and spread parchment paper to fit the pan. Pour the chocolate mixture in the pan and spread evenly. Make sure there is no grease on the sides of the pan because the sponge cake needs to stick to the sides, otherwise it will shrink.
Bake at 350° for 13 minutes.
Have a clean towel ready, sprinkled heavily with powdered sugar. When the cake is done, loosen from the sides and place on the powdered towel. Sprinkle powdered sugar on the cake (which you have turned over on the towel) after removing the parchment paper. Roll up the cake and let it cool.
Using a chilled bowl and beaters, beat the whipped cream until very stiff. Add ½ c of sugar very gradually. Unroll the cake and spread cream over it. The roll up again. 
Spread the roll with chocolate frosting and run the tines of a fork all the way down it, in order to look like a log. Decorate with chopped nuts or take maraschino cherries cut in half. Cut up green cherries with scissors and make leaves and stems from the cherry halves.
This can be frozen. Freeze the frosted cake before placing it in a bread wrapper. This way your frosting doesn't rub off. Cut off wrapper to remove cake and thaw before serving.
Submitted by Lisa Rashewsky. Original recipe of her grandmother, Minnie Rashewsky.