Makes one large loaf or two small loaves.
Dough
1 ½ c lukewarm water, divided

2 ¼ t active dry yeast

1 t sugar

1 egg

3 egg yolks

1/3 c honey or Lyle's Golden Syrup

2 T canola oil

2 t salt

4 ½ – 6 c bread flour
Egg Wash
1 egg

1 T cold water

½ t salt

1 t honey or Lyle's Golden Syrup (optional for slightly darker crust)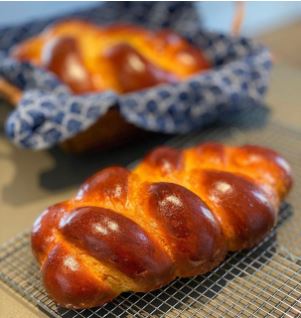 Pour ¼ c of the water into a mixing bowl or Kitchen-Aid mixer bowl.  Add yeast and 1 t sugar and stir.  Let yeast activate for 10 minutes. Add remaining water, eggs, honey, canola oil and salt, and whisk.  Add flour ½ c at a time until dough pulls away from the bowl, and knead for 10 minutes in the mixer, or by hand.  Cover bowl with towel and rest for ten minutes. Knead another 5 minutes. Grease another large bowl with oil and add the dough ball, making sure to oil all sides. Cover with cling film or a damp towel and proof for 1 hour and punch down.  Proof for another hour, punch down and turn out onto a floured counter.  Knead until dough is no longer sticky.  Braid and place on a baking sheet lined with parchment paper, cover with a towel and let rise for another 40 minutes while preheating the oven to 350 degrees.  Brush with egg wash, add any toppings, and bake 20 minutes.  Remove and brush the center of the braids with another thin coat of egg wash, add more toppings to the center of the braids, turn sheet and bake another 20 minutes.  Cool on wire rack.