4 eggs, lightly beaten

1 24 oz container small-curd cottage cheese

1-2 T fresh Italian herbs (oregano, Italian parsley, basil), chopped

2 cloves garlic, minced

Pinch of salt and pepper

4 c shredded mozzarella cheese

1 23 oz jar marinara

6 sheets of matzo

Your family's favorite pizza toppings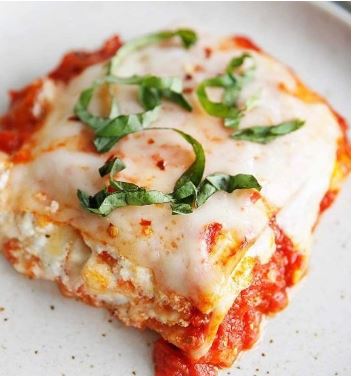 Heat oven to 350°. In a bowl, combine eggs, cottage cheese, fresh herbs, garlic, salt and pepper, and 1 cup of the mozzarella. Set the mixture aside.
Grease a 9×13 glass baking dish and spread a thin layer of marinara over the bottom.
Lightly dampen the matzo with water (run quickly under a faucet, so as not to completely soak), then place two sheets on top of the layer of marinara. Spread a third of the remaining marinara over the matzo, and spoon half of the cottage cheese mixture on top. Sprinkle 1 cup of mozzarella over the cottage cheese mixture and add the first layer of pizza toppings.
Continue to layer ingredients, adding another two sheets of matzo, half of the marinara, the remaining cottage cheese mixture, half of the mozzarella, and more toppings.
Add the last two sheets of matzo and the remaining marinara, mozzarella, and toppings.
Loosely cover the dish with foil and bake for 35-40 minutes. Then remove the foil and broil the lasagna for 3-5 minutes, or until top is browned to taste. Let the dish rest for 10 minutes before serving.