Butter/shortening to grease baking pan
Kosher salt
1 lb wide egg noodles
1 dozen lg eggs
1 lb cottage cheese
1 c sugar
2 c sour cream
8 T (one stick) butter, melted and cooled
3 med firm apples, peeled and thinly sliced*
1 t cinnamon + some for dusting top
golden raisins
½ can crushed pineapple, drained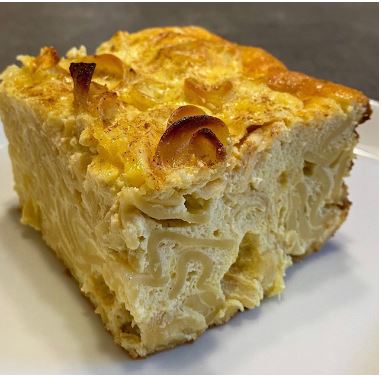 Preheat oven to 350°. Grease a 13x9x2 baking pan.  Cook noodles as directed in salted water until al dente. Meanwhile, combine the eggs, cottage cheese, sugar, and ¾ t salt in a blender and blend until smooth. Transfer the mixture to a large bowl and stir in the sour cream and butter. When the noodles are done, drain well and stir them, along with the apples and pineapple, into the egg mixture. Add cinnamon and a handful of golden raisins and stir well. Transfer the mixture to the prepared baking pan, sprinkle with cinnamon, and bake until set and golden, 1 ¼ to 1 ½ hours. The kugel will puff up and then deflate slightly on cooling.  Cut into squares when cool and serve hot or at room temperature.
*I thinly slice the apples using the peeler directly into the egg mixture. This way, the apples dissolve and flavor the kugel without the texture of larger apple pieces.