½ c apricot preserves

2 t Dijon mustard

1 t minced garlic

1 t low-sodium soy sauce

½ t Worcestershire sauce

¼ t salt

⅛ t cinnamon

⅛ t black pepper

8 (4 oz) lamb loin chops, trimmed

Cooking spray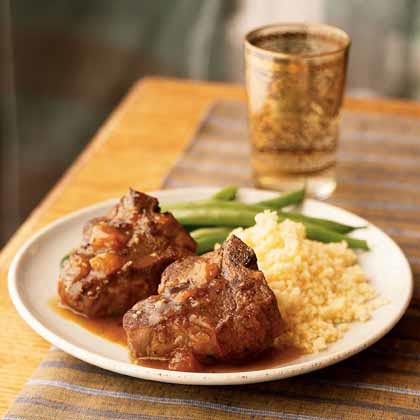 Combine first 5 ingredients in a small bowl; set aside. Combine salt, cinnamon, and pepper, and sprinkle over both sides of the lamb. Heat a large nonstick skillet over medium-high heat. Coat pan with cooking spray. Add lamb to pan; cook 5 minutes on each side until desired degree of doneness. Remove skillet from heat; add apricot mixture, turning lamb to coat. Place 2 chops on each of 4 plates; spoon remaining apricot mixture evenly over chops. Yield: 4 servings.
Submitted by Judy Sernick