1 lb ground lamb

1 lb ground chuck

2 T kosher salt

1.5 t dried oregano

1 t black pepper

1 sweet onion, chopped

4 garlic cloves, chopped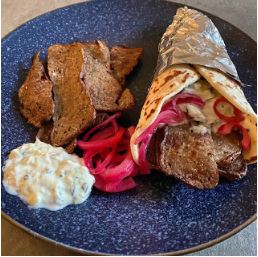 Mix meat, salt, black pepper and oregano and form into a tight ball. Cover and refrigerate overnight.
The next day, process onions and garlic. Add meat and process until it resembles a thick pink paste.  Form into a loaf about 2" high and slightly indent the middle so it won't puff up.  Bake at 350 for about 45 min or until meat is 155-160 degrees in the middle. When done, let rest at least 15 minutes.  Slice thinly and brown both sides in cast iron (or broil) to approximate meat from a spit.  Serve with pita and tzatziki sauce.
Note: You can use all beef if you desire. Recipe is easily halved.