Anzac biscuits (cookies) have long been associated with the Australian and New Zealand Army Corps (ANZAC) established in World War I. It has been claimed that biscuits were sent by wives and women's groups to soldiers abroad because the ingredients do not spoil easily (no eggs) and the biscuits kept well during naval transportation.
1 c regular oats

1 c all-purpose flour

1 c packed brown sugar

½ c shredded sweetened coconut

½ t baking soda

¼ cup butter or margarine (½ stick), melted

3 T water

2 T Lyle's Golden Syrup

Cooking spray or parchment paper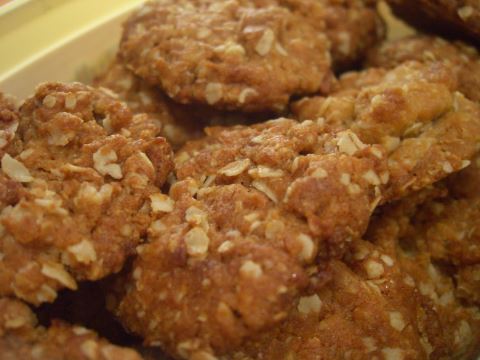 Preheat oven to 325°. Combine first 5 ingredients in a bowl; stir well. Add butter/margarine, water, and syrup; stir well. Drop by level tablespoon, 2 inches apart, onto a baking sheet coated with cooking spray, or covered in parchment paper. Bake for 12 minutes or until almost set. Remove from oven and let stand 2-3 minutes until firm. Remove cookies from baking sheets and place on a wire rack until cooled completely.
Note: Lyle's Golden Syrup is a thick, amber-colored inverted sugar syrup popular in the UK, Australia and New Zealand. It is available in West Michigan at most major supermarkets. While it offers the most authentic flavor,  the best golden syrup substitutes are light corn syrup and brown rice syrup. However, agave nectar, honey and maple syrup are also good alternatives.