Yummy Amaranth & Seed Cereal
Our favorite cereal is a mixture of amaranth flakes, rolled oats, nuts and seeds.  It is delicious with milk, nut milks, or yoghurt.  The recipe was shared with us by dear friends. And in that spirit, we would like to share it with you.
4 cups amaranth flakes (can purchase at health food's stores; eg. Harvest Health)

4 cups oats

1 cup almonds or hazelnuts; I prefer pecans or walnuts

1 cup raw sunflower seeds

1 cup pumpkin seeds

1 cup flax meal; I don't use, but sometimes add a little when eating

1 cup slivered almonds (my addition)

3/4 cup canola oil

1/2 cup maple syrup

1 cup dried cherries, raisins, or other dried fruit (I add when eating it; fresher)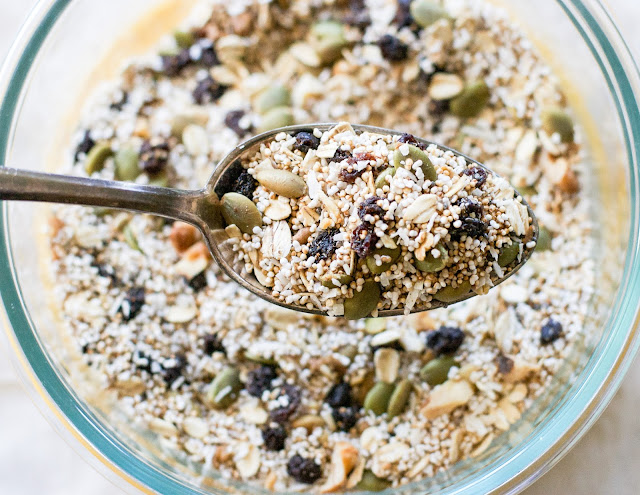 Preheat oven to 275.  Mix all ingredients in a large bowl—mix and coat well with oil and syrup.  Spread on cookie sheet and place in oven.  Stir every 15-20 minutes for 1 1/2 to 2 hours, until nuts are browned.  Add dried fruit after granola cooks and cools.
Julie and David Bernstein