Adapted from Zahav's Hummus Tehina (Michael Solomonov)
1 ½ c dried chickpeas

2 t baking soda, divided

4 unpeeled garlic cloves

⅓ c lemon juice, or more to taste

1 t kosher salt

¾ c tahini

¼ c ice water

¼ t ground cumin

Extra virgin olive oil and optional sumac or paprika, toasted pine nuts, and/or pomegranate seeds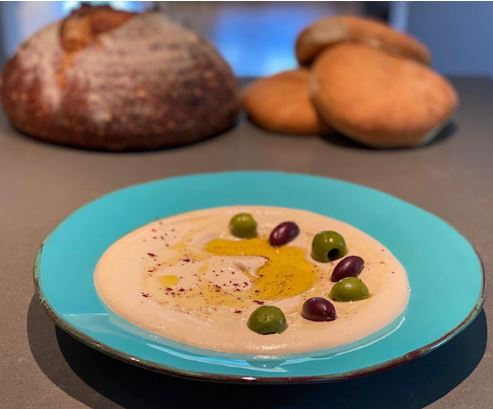 Soak the chickpeas overnight at room temperature by covering with cold water and 1 t of the baking soda. The next day, drain and rinse the chickpeas. Place them in a large pot, add cold water to cover them by at least 4" and add the remaining ¼ t of baking soda. Bring to a boil and skim off any scum that rises to the surface. Reduce to a simmer and cook for about one hour until the chickpeas are tender, then drain. 
In the meantime, process the garlic, lemon juice, and 1 t of kosher salt in a food processor until puréed and let sit for 10 minutes. Strain the mixture into a bowl through a fine-meshed strainer and press on the solids to get as much liquid as possible. Rinse the food processor bowl and return the liquid. Add the tahini and pulse to combine. With the motor running, add ¼ c ice water and mix until smooth and creamy. Taste and adjust the seasoning with salt, lemon juice, and cumin if desired. 
Serve in a shallow bowl and dust with paprika or sumac. Drizzle with olive oil and add optional toppings, if desired.